Recent Jobs and Reviews in Woodbury, CT
Our Remodeling Services in Woodbury, CT
Types of Woodbury Exterior Remodeling Projects
Our remodeling expertise is specialized in exterior remodeling. Roofing, Siding, Windows, Doors, Decks, Porticos, Gutters and More. Our 30 years of experience enables us to put together projects that not only look better than others, they last longer. We know how each component of your Woodbury home works with another part. When we put together and build a project for you everything is done to benefit the entire project area. We design and build the entire project. When we're working in Woodbury we like to stop at Papa's deli for lunch.
Woodbury Roofing Services
We do roof repairs to complete roof replacements. If you think your roof is getting near that time for replacement? or if you're experiencing a roof problem now? Sometimes your roof may not show you a sign of its condition from the ground. That's why it's better if we do a roof inspection close up on top of your roof. This way we can give you an honest opinion on your roofs condition and give you an accurate report. Give us a call and let us inspect your roofs current condition.
Woodbury Vinyl Siding Installation
One of the first things we mastered when we started in business was expert vinyl siding installation. The reason is it's the most complex and it requires masterful craftsmanship to install it professionally. We carry a wide range of vinyl siding in various profiles, textures and colors. We have vinyl siding for almost every budget. Our financing options can also help you get the project you really want.
Vinyl Siding Colors
Our vinyl siding color choices have expanded to over 120 vinyl siding and trim colors. We light to dark colors and many earthy colors that are very popular. While sometimes choosing siding colors can be difficult, we have design tools and techniques to guide you through color selection. Your home type, design and your personal taste are all factors when choosing a siding and trim color. Here's a siding color tip. Take a drive and look through your local neighborhoods at what some other homeowners have done. This way you get a feel for what siding colors you like and don't like.
The Best Vinyl Siding
We carry only the best brands of vinyl siding. Our 30 years of experience with vinyl siding has taught us many things. One being using a quality brand of vinyl siding. Some of the top brands we use are Certainteed, Ply Gem / Mastic, Crane, Provia, Tando and Royal. These siding brands offer great quality siding products. We have used all of them over the years and they never failed us.
Seamless Gutters
Gutters shouldn't be overlooked when making repairs or improvements on your home. We install heavy duty .032 seamless gutters made on the job site. You can select from 14 gutter and downspout colors. Our expert gutter installers will have your new gutter system up and running quickly. Our gutter prices are competitive and our installation quality is excellent.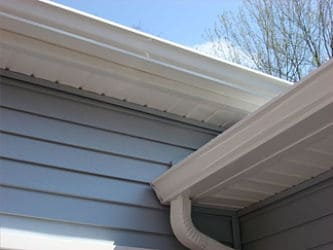 4 Easy Ways to Contact Us
Call Us
Someone is here to take your call
24 hours a day / 7 days a week.
Text or Message Us
You can text us at this number
203-735-5450
Email Us
Email us for more information
Book Us
You can book a Free, Easy Estimate with us here, in 2 minutes or less
Message Us
Get In touch below. Ask Any Question or Start a Free Quote
Office Location
457 North Main St.                       Naugatuck, CT. 06770
Open Hours
Monday - Saturday: 8am - 4:30pm
Sunday Closed
Our Service Areas in Connecticut
Ansonia, CT | Beacon Falls, CT | Bethany, CT | Bethel, CT |Bethlehem, CT | Branford, CT | Bridgewater, CT | Bristol, CT | Brookfield, CT | Cheshire, CT | Danbury, CT |Derby, CT | East Haven, CT | Goshen, CT | Hamden, CT | Harwinton, CT | Kent, CT | Litchfield, CT | Meriden, CT | Middlebury, CT | Milford, CT | Monroe, CT | Naugatuck, CT | Newtown, CT | New Fairfield, CT | New Haven, CT| New Milford, CT | North Branford, CT | North Haven, CT | Orange, CT | Oxford, CT | Plymouth, CT | Preston, CT | Prospect, CT | Roxbury, CT | Seymour, CT | Sharon, CT | Shelton, CT | Sherman, CT | Southbury, CT | Southington, CT | Stratford, CT | Thomaston, CT | Torrington, CT | Trumbull, CT | Wallingford, CT | Washington, CT | Waterbury, CT | Watertown, CT | West Haven, CT  | Wolcott, CT | Woodbridge, CT | Woodbury, CT