Vinyl Siding in Connecticut
Create Your Own Before and After
For a limited time use our exterior remodeling visualizer tool and add roofing, siding, windows and doors to your home.
Vinyl Siding Benefits
Vinyl Siding in Connecticut has many benefits for homeowners. Vinyl siding has kept its high rating in Connecticut and is the most used exterior cladding in the USA
Vinyl siding ends the expense of rotted wood repair and constant painting

Woodpecker damage is also a thing of the past.


Insulated Vinyl Siding adds year round energy savings.

Vinyl siding holds its detail for decades compared to painted wood.

Vinyl Siding is applied once for a lifetime of benefits
Energy Saving Insulated Vinyl Siding
With insulated vinyl sidings solid core of insulation you'll save money year round on heating and cooling costs.

Energy Star Rated vinyl siding is also eligible for some federal tax credits. We have the paperwork you need to file for the tax credits.

It has up to 400% more impact resistance compared to standard siding

Insulated siding is breathable and wont hold in moisture which can create mold

You can choose from all the popular vinyl siding styles and vinyl siding colors including long length vinyl siding to help reduce seams.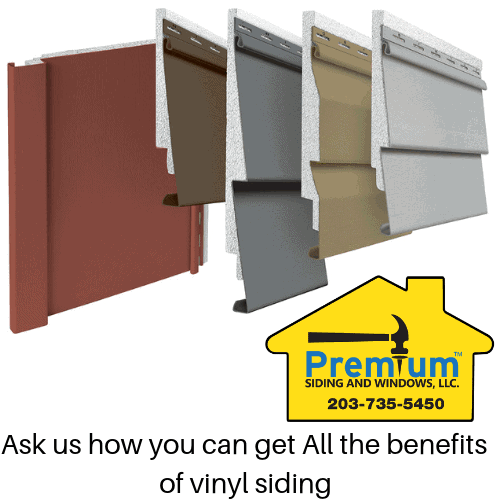 Vinyl Siding Seams and Durability
You can choose from vinyl siding in seamless or long length vinyl siding to help eliminate seams.
Our vinyl siding is available in lengths of 12'6″, 16'8″, 20′, 25′ and 25'6″. Our long length vinyl siding is available in lengths up to 25' 6" long.

 Shake and shingle siding is seamless.

Insulated vinyl siding has wind ratings up to 240 mph has 400% more impact resistance than regular vinyl siding.

Vinyl siding that has durability and beauty to last a lifetime
Vinyl Siding Warranties
Insulated vinyl siding has a limited double lifetime labor and material warranty.

Color fade protection and some with added hail protection.

These vinyl siding warranties protect you and your investment.

To add more value warranties are transferable to the next owner if you ever decide to sell your Connecticut home.
Vinyl Siding Colors and Trim
Choosing a vinyl siding color for your Connecticut home is easy with us. You won't have a hard time finding the perfect siding color.
We have over 120 vinyl siding and vinyl siding trim colors all selected by top designers.

We only use the top vinyl siding manufacturers like Certainteed, Mastic, Provia, Tando and More.

Add all of our vinyl siding styles, textures and accessories like designer corners, crown moldings, dentil molding and accessory blocks and you have a huge combination of possibilities.

Don't worry about the designing part. We have state of the art rendering software and other tools to help you see exactly what your home will look like after the vinyl siding installation.

We help you every step of the way. We have over 32 years of designing and installing some of the best vinyl siding projects in Connecticut.

Vinyl Siding Installation
You can rest easy knowing that we have been designing and installing some of the finest vinyl siding projects in Connecticut for over 32 years.
Important, When we meet, a hands on experienced vinyl siding installer with full knowledge of all the vinyl siding products will be helping you.

We're neat and clean up the job site daily.

We are licensed by the state of Connecticut Dept. of Consumer Protection.

Fully insured.

Rated A+ by the Connecticut BBB

W

e are factory certified for a wide range of vinyl siding and other home improvement installations.

We are a Certainteed Certified 5 Star Siding Contractor in Connecticut

When we install your vinyl siding you can be assured you and your home will be well taken care of.

The siding design and installation experience to exceed your expectations.

We'll guide you every step of the way so you can make the right decisions that fit your homes design, your taste and your budget.

Vinyl Siding Prices & Vinyl Siding Estimates
Vinyl siding prices in Connecticut can vary depending on the quality of materials and who is installing the vinyl siding.

Our 32 years as siding contractors installing vinyl siding projects around Connecticut has given us a level of professionalism that not many vinyl siding companies in Connecticut have.

When you meet with us an experienced design and installation vinyl siding professional will meet with you to discuss your project. Someone that has actually done the work for many years.


Our vinyl siding estimates are Free and there is No sales pressure.

100% financing is available, for the siding project you always dreamed of.

4 Easy Ways to Contact Us
Call Us
Someone is here to take your call
24 hours a day / 7 days a week.
Text or Message Us
You can text us at this number
203-735-5450
Email Us
Email us for more information
Book Us
You can book a Free, Easy Estimate with us here, in 2 minutes or less
100% Financing Available
Ask us about financing All or Part of your new home improvement project
Take the next step
Give us a Call or Text to Get a Free Quote
Call or Text Us
203-735-5450
Office Location
457 North Main St.                       Naugatuck, CT. 06770
Open Hours
Monday - Saturday: 8am - 4:30pm
Sunday Closed
Our Service Areas in Connecticut
Ansonia, CT | Beacon Falls, CT | Bethany, CT | Bethel, CT |Bethlehem, CT | Branford, CT | Bridgewater, CT | Bristol, CT | Brookfield, CT | Cheshire, CT | Danbury, CT |Derby, CT | East Haven, CT | Goshen, CT | Hamden, CT | Harwinton, CT | Kent, CT | Litchfield, CT | Meriden, CT | Middlebury, CT | Milford, CT | Monroe, CT | Naugatuck, CT | Newtown, CT | New Fairfield, CT | New Haven, CT| New Milford, CT | North Branford, CT | North Haven, CT | Orange, CT | Oxford, CT | Plymouth, CT | Preston, CT | Prospect, CT | Roxbury, CT | Seymour, CT | Sharon, CT | Shelton, CT | Sherman, CT | Southbury, CT | Southington, CT | Stratford, CT | Thomaston, CT | Torrington, CT | Trumbull, CT | Wallingford, CT | Washington, CT | Waterbury, CT | Watertown, CT | West Haven, CT  | Wolcott, CT | Woodbridge, CT | Woodbury, CT